Legendary programmer and co-founder of Ethereum, Vitalik Buterin has made another transfer of ETH to a cryptocurrency exchange. This move has sparked speculation in the crypto community about the purpose of his transfers. In this article, we examine the details of Buterin's latest sale, the potential reasons for his transfers, and the effect it could have on the cryptocurrency market.
Details of Vitalik Buterin's ETH Sale
According to the tracking account, @lookonchain, Vitalik Buterin has moved 1,000 ETH, equivalent to about $1.64 million, to Bitstamp, a popular cryptocurrency exchange. As reported by U.Today, in the past two months alone, Buterin has sent 4,400 ETH, worth more than $7 million, to Bitstamp. He has also been transferring ETH to Coinbase, another popular exchange.
Possible Reasons Behind Vitalik Buterin's Transfers
The frequency of Vitalik Buterin's transfers has prompted speculation about his intentions. However, it is not uncommon for whales, investors with large cryptocurrency holdings, to move their coins to exchanges to facilitate trades or convert them into fiat currency. It is also possible that Buterin may be selling his shares for personal reasons.
Despite the volume of ETH transferred, the market price of Ethereum has not been significantly affected by Vitalik Buterin's transfers. Each time he has transferred coins to exchanges, there has been no particular effect on the price of the asset.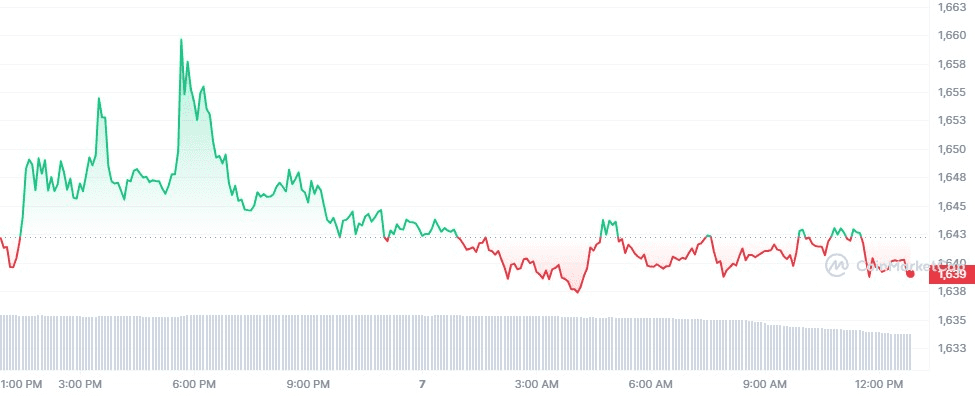 Large ETH Withdrawals from Cryptocurrency Exchanges
In addition to Vitalik Buterin's transfers, there has also been a large withdrawal of Ethereum from centralized exchanges, according to on-chain data aggregator Santiment. Unknown whales recently transferred a massive 110,000 ETH, worth millions of dollars, from exchanges. As a result, the total supply of Ethereum held by exchanges has reached a 5.5-year low, while the non-exchange ETH supply has reached an all-time high of 115.88 million ETH, per Santiment data.
Vitalik Buterin's recent ETH sale adds to the speculation surrounding his transfers. As one of the most prominent and influential figures in the crypto industry, his actions carry significant weight. However, the lack of a significant effect on Ethereum's price demonstrates the resilience of the market. The large withdrawals of Ethereum from exchanges, on the other hand, could potentially lead to an increased demand for the cryptocurrency and drive the price upward.