Early crypto investors remember a time when there was a single Ethereum chain until the infamous 2016 DAO attack created a schism. The DAO was a decentralized Kickstarter set up on Ethereum and one of the most extensive crowdfunding campaigns in history. A vulnerability in the code of the DAO was discovered and exploited, and 11.5 million ETH were drained.
Buterin, one of Ethereum's co-founders, together with investors, supported the idea of forking the network to restore the funds. At the same time, an opposing camp rejected the view because a blockchain is immutable and unchangeable. Most of the community voted favorably forking the network, resulting in two separate chains. That is how Ethereum Classic was born. It holds the old Ethereum technology and everything before the fork.
Ethereum Classic now
At the point of divergence, the chains shared the same history, founders, and technology. Subsequently, Ethereum attracted most investors, developers, retail, and institutional money.
The Ethereum Classic narrative has now become one of a decentralized, untainted, principled, leaderless, permissionless, unstoppable, and immutable blockchain. "Code is law" is the new motto in support of future virtual sovereign jurisdictions, protected from tampering. There is "no official anything"; no official developers, websites, or conferences, because no individual or group represents it. It is a do-democracy because anyone can contribute. Whether something gets picked up depends on the users. This is how the network has diverged from Ethereum.
The Coin
Ethereum Classic (ETC) is the native coin used on the network. It ranked in 20th place by market cap and was capped at 230 million tokens. Its all-time high of $167.09 was reached in May 2021. All major ETH wallets support ETC, and the latter can be bought, sold, and traded on all major exchanges.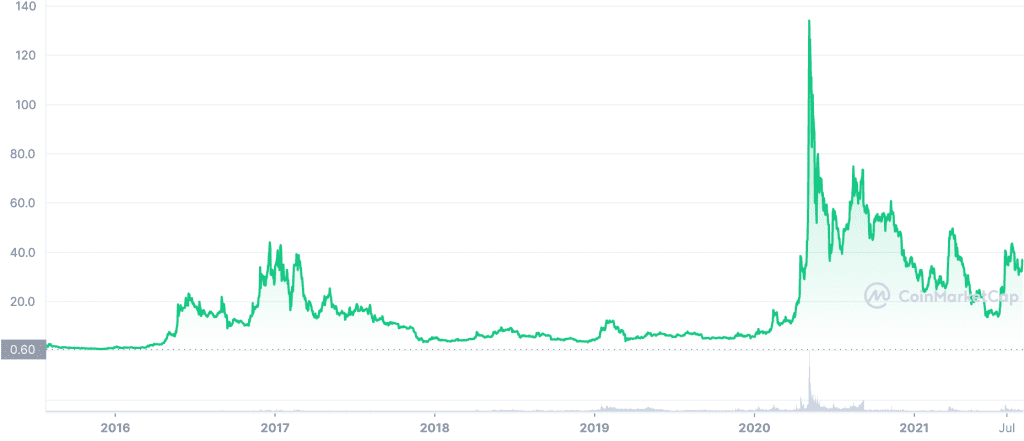 The Network 
Ethereum Classic is a Turing complete innovative contract platform supporting dApps, and to provide a reliable, secure base layer, the code is upgraded very conservatively. The chain retained the original Proof-of-Work (PoW) consensus mechanism with no plans for change. It also maintains maximal compatibility with Ethereum's EVM so that contracts can migrate easily. Therefore, it can inherit innovations from other EVM chains, such as contract systems, developer tools, and other concepts like optimistic rollups.
The network does not have a roadmap, and a comparison to Bitcoin's organic approach is made. Any software developments are implemented if and when they come along by the community. The upcoming Ethereum Merge in mid-September is an opportunity to attract miners. Chain supporters believe it can attract a new wave of interest, enhancing security, adoption, and network value.
The Ecosystem
Will miners migrate? Ethereum Classic's ecosystem is not as active as other blockchains in the top 10. As per the official website, there are less than 40 dApps in total, compared to Ethereum's 2900. According to DeFi Lama, the total value locked (TVL) is approximately half a million dollars stemming from just four DeFi dApps, which puts it in a global 113th position compared to other chains based on TVL.
The Future: A Ghost Chain?
According to information on Santiment, developer activity has often been close to zero these past months. A metric used to assess a project's commitment to creating a working product and regularly polishing existing features.
A low number of users leaves a blockchain exposed to "51% attacks", where a group of bad actors controls more than 50% of the network's mining hash rate. This is a risk run by PoW blockchains, and unfortunately, Ethereum Classic has suffered multiple attacks in 2019 and 2020, which has stifled confidence in the chain. A security change to make it 31 times more expensive to attack the chain, called Mess Network Security Solution, was implemented.
According to data from Messari, the hash rate on Ethereum Classic hit an all-time high in late August, and most are attributing this to the upcoming Ethereum merge. Despite the optimism, the chain's success seems to hang on the outcome of the Merge. Will this suffice to reignite interest in the chain? We shall watch and see.