Analytics firm IntoTheBlock has revealed that the Bitcoin futures market is signaling a new bottom. According to the data, BTC is experiencing a backwardation – a state where the Bitcoin futures contracts are valued lower than the price of BTC in the spot market. On November 27, IntoTheBlock analyzed that a backwardation means high selling pressure for BTC. Since the beginning of November, the cryptocurrency went down from the $21,000 zone to its lowest price of the year at $15,500.
IntoTheBlock tweeted a thread, "December futures contracts are priced lower than the current Bitcoin spot price. This condition (known as backwardation) is relatively atypical for Bitcoin and indicates a large amount of selling activity taking place in the last couple of weeks."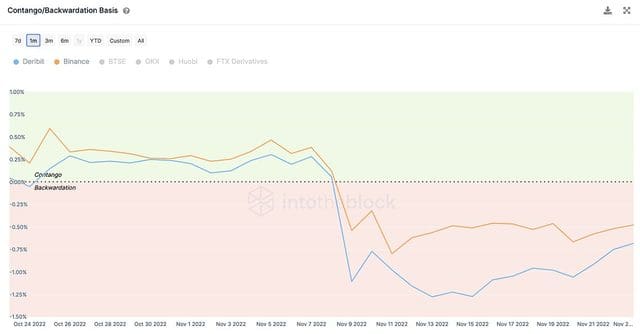 So, what does this mean for the crypto market? According to the analysis, the funding rates for BTC circulate in a negative zone, which always signals that sellers still dominate the exchanges. This could indicate a short squeeze wherein those who borrow units of an asset at a specific price sell them for a lower value.
This has been resonating in both crypto and stock markets since December 2021.
IntoTheBlock theorized that it is very likely that Bitcoin will go even lower since the same backwardation movement happened in March 2020 and May 2021 – significant dates where BTC lost more than 50% of its past highs.
Analysts Still Look at the Market Negatively
Crypto analysts on Reddit and Twitter continue to post their predictions that show everything will go lower and then some.
For example, CryptoCapo from Twitter stated that Ethereum would crumble from its somewhat weak support of $1170 down to $650 or $600. Many agree with this analysis since the lowered market cap has not shown any presence of strong buyers.
Previously, back in June, many thought that Bitcoin would bounce back from its weekly timeframe under the 200-day moving average (MA). The price during the time was $17,600 and even reached a high of $25,211 in August.
FUD Still Extreme in Crypto
The cryptocurrency market has not caught a break since the beginning of the year, with so many black swans overtaking asset prices. These include the following:
Russian – Ukrainian War
Economic inflation
Multiple hacks on bridge protocols
Wallet breaches in NFTs and P2E games
Depegging of the Terra US Dollar
$LUNA dropping from $120 to $0
Feds continuing their interruption of crypto
Numerous crypto companies filed for bankruptcy
FTX -Alameda Research controversy
P2E game developers discontinuing their projects
Mark Zuckerberg's Meta under heavy criticism
Without any glimpse of positive news that can reverse the market, communities all over social media declare that cryptocurrency is "dead." Billions of dollars have been lost over 11 months, and nobody has a clear view of what could lead to another bull run.
Not Everything is Lost
While many people may pull out from the market, there are still traders and opportunists who see the current cycle as a chance to buy Bitcoin and altcoins such as Ethereum, Binance Coin, Cardano, and Solana at discounted prices.
Even with IntoTheBlock's analysis of Bitcoin hitting a new bottom, the calm long-term investors highly recommend doing dollar cost averaging instead. That way, buyers can afford "bluechip" cryptocurrencies in large quantities while waiting for the next bull market.