Traders in the crypto market are flocking to trade against the British Pound (GBP) as financial turbulence continues in the U.K. This comes after a September announcement of unfunded tax cuts, causing more people to trade cryptocurrencies against the GBP.
It all started after the September 23 'mini budget' by Chancellor of the Exchequer Kwasi Kwarteng, a release that has since sent the U.K. government bonds and the GBP tumbling. This caused a crisis for pension funds in light of surging yields on longer-term government debt prompting rapid adjustment of investor portfolios. To manage the spilling over of results, the Bank of England (BOE) introduced a package of bonds that eased the pressure.
According to a report by Reuters, British stocks fell again on Wednesday, October 12, following a move by BOE Governor Andrew Bailey to caution pension funds of the looming termination of support by October 15.
Later on, however, Financial Times released a contradicting report noting that the Bank of England briefed bankers that the emergency bond-buying program could go beyond the October 15 deadline.
British Pound Lags Amid Surging Crypto Volumes
The distress in the U.K is happening simultaneously when Bitcoin trading volumes are increasing against the GBP. According to data from crypto exchange Bitfinex, BTC/GBP volumes have been spiking since late September.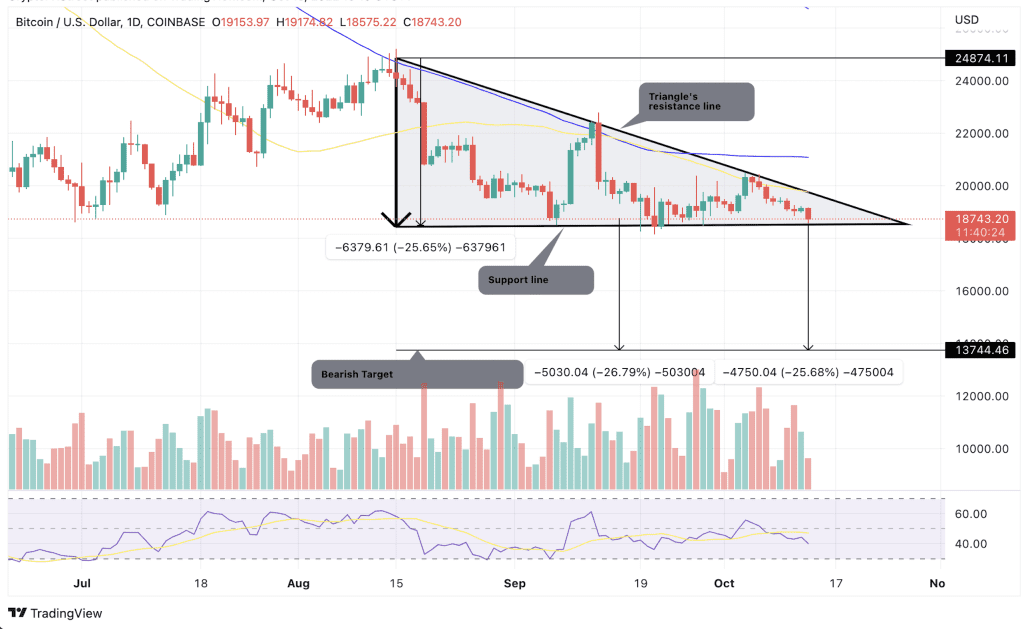 With both Bitcoin (BTC) and Ether (ETH) trading overpowering the volume of trades in GBP, this is evidence of traders' reduced confidence in the government. The importance of BTC/GBP has spiked alongside financial concerns in the U.K. Moreover, Bitfinex has also noted that ETH volumes have increased against the British Pound.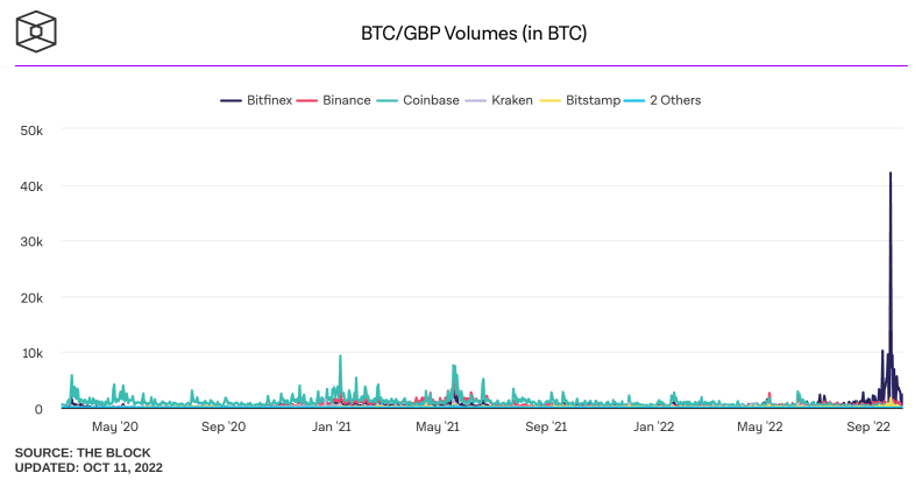 Other than that, the GBP distress may also be attributed to arbitrage, the simultaneous buying, and selling of cryptocurrency across different markets in the U.K. Similarly, there has also been a significant increase in ETH/GBP volume.
Based on the above data, some investors in the U.K. speculate that the Pound is losing ground to crypto. A Twitter user going by the name @CL207 posted on October 12 saying,
"…hmm interesting, most evident on bitstamp / bitfinex; it's not a crazy amount, but not bad."
Although the above data may indicate that investors in the United Kingdom are abandoning the Pound in favor of crypto, it may not necessarily be the case. According to The Block's Vice president of Research Larry Cermak, a time may come when the British Pound is volatile. When this happens, Cermak opines that some traders, if not all, could rake in more gains arbitraging against BTC/USD pairs.
According to Cermak, it is faulty to conclude that investors and traders are dumping GBP and buying Bitcoin or Ether. In his opinion, the data could also be due to the actions of market makers and traders attempting to arbitrage the difference.