Before the September Merge of the Ethereum network, Coinbase (COIN) will offer its liquid staking token named Coinbase Wrapped Staked ETH (cbETH). The Ethereum "Merge" or Ethereum 2.0 will radically alter its blockchain network to reportedly make it competitive with networks like Visa and Mastercard.
It is anticipated that the Merge, which switches Ethereum's proof-of-work consensus method to proof-of-stake, will be completed sometime between September 10 and 20. The network's energy consumption is reportedly expected to be drastically reduced using the proof of stake consensus mechanism.
Coinbase Global has been challenging due to a drop in digital asset prices and rising competition for a declining number of investors. An important crypto network update could be welcome news for the stock.
What is cbETH
The Coinbase token (cbETH) will be Ethereum-based, and following the Merge, it may be used to stake Ethereum (ETH). The blockchain's native token, using Coinbase. On top of the regular incentives for staking or locking coins in a network, liquid staking enables investors to produce an additional profit.
According to a white paper by Coinbase, in liquid staking, the locked staked assets are "wrapped" into transferrable tokens that indicate ownership of the underlying staked assets and any rewards received. The generated tokens are entirely transferable and can be opened to reveal the staked assets underneath.
According to the white paper, cbETH investors could sell their staked ETH for cash or move their staked ETH to another non-custodial wallet. If all liquidity requirements are satisfied, trading of the liquid token will begin on August 25, according to Coinbase's Twitter thread. The post said that trading of the cbETH-USD trading pair would start once there is a sufficient supply of this asset.
There are, however, competing providers of similar services. Lido Finance, for example, announced on July 19 that it would soon begin selling staked ether on layer two companion networks, which run separately from the Ethereum main net and process transactions more swiftly and affordably.
Competition with Lido
Dune analytics data shows that 31% of Ethereum is currently staked on Lido, while 14% is staked on Coinbase. The exchange's whitepaper said that Lido, which has a superior network penetration rate, dominates the liquid staking market for Ethereum (LDO). Coinbase, however, feels it can compete in this market because of the company's popularity. Time will tell if Coinbase is correct or not in its analysis.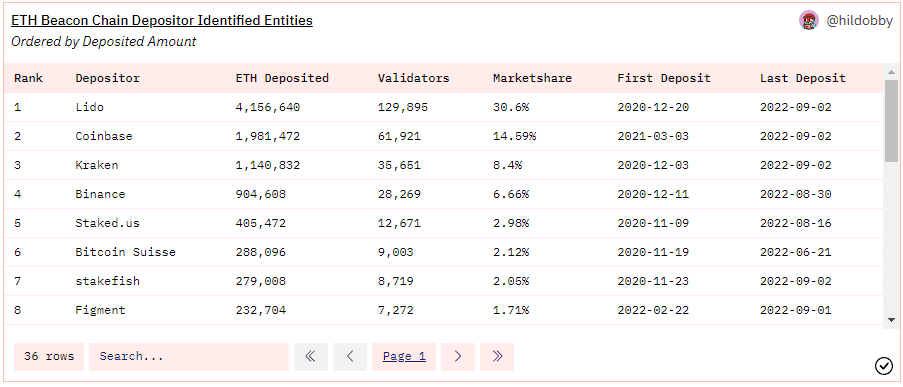 Coinbase proclaims that cbETH will have many applications after the Merge, encouraging widespread token adoption. The white paper states, "we expect that cbETH will have strong adoption for trade, transfer, and use in DeFi [decentralized finance] applications." However, any official partnerships or major merchants accepting the token have yet to be widely publicized.
Conclusion
Concerns remain over the potential impact centralized staking providers may have on Ethereum's conversion to a proof-of-stake network. Many business leaders have expressed fear that these organizations would restrict Ethereum from complying with regulatory demands.
Brian Armstrong, the CEO of Coinbase, said that the company would reject any requests from authorities to censor transactions. Instead, if no other options are available, it will stop providing its staking service.