The FTX collapse contagion continues to rock the market. Crypto prices started in the red, trading below last week's lows. Although the market sentiment remains extremely harmful, a few players think it is at or near its bottom.
This article examines this possibility using historical on-chain data from previous cycles.
Is Crypto At The Bottom?
Prices of many cryptocurrencies reached new yearly lows on Monday. All the top cryptos by market capitalization have dropped more than 70% from their 2021 peaks. However, compared to previous bear markets, most major cryptocurrencies have dropped less in the 2022 bear market.
For example, Bitcoin (BTC) is down 77% from its peak, which was reached in November 2021. This was an 84% drop for the 2018 cycle, which was also less than the 87% drop in the 2013-2015 cycle. The largest altcoin, Ethereum (ETH), is trading 82% lower than its 2021 all-time high. This percentage is smaller than the 94% drop in the 2018 bear market.
This implies that the drawdowns in 2022 could be less severe, just like the 2018 bull market saw smaller percentage drops than in 2015. The possibility of a relatively milder bear market can be attributed to the expansion of crypto investors beyond the 2018 holder base, with significant technology funds and financial institutions now being exposed to cryptocurrencies, either directly or indirectly.
This pattern certainly provides some hope though it does not guarantee that a more significant drawdown will not be seen in the current bear market.
The analysis of on-chain data presents another good pattern. For example, Financial Indicators from IntoTheBlock, an on-chain data analysis firm, show that most Bitcoin holders are in the red. According to the chart below, more than 50% of BTC holders are in losses in their position.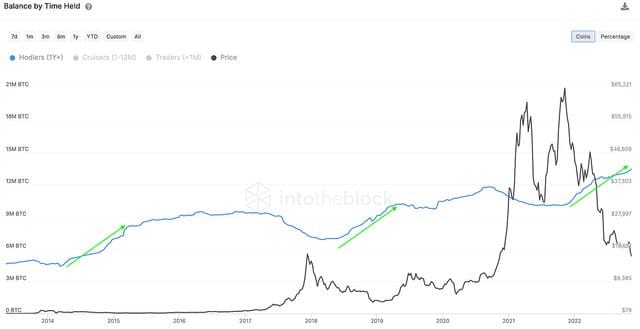 Compared to the previous cycles, the amount of BTC holders in the red reached 62% in 2015 and 52% in 2018. They were having the majority of holders of an asset that has appreciated 25,000% since inception could be a sign of bearish momentum getting excessive. It took six months for most holders to be back into profits in 2015, compared to 3 months in 2018. This means it could take even shorter for Bitcoin holders to get back into profit after the current crypto winter ends.
This is because bear markets appear to be getting shorter, with fewer losses and a smaller percentage of holders losing over time. According to IntoTheBlock, the trend also increases the chances of a bottom being potentially close.
Another important observation that can be deduced from IntoTheBlock's on-chain data is that long-term investors usually double down on their accumulation during bear markets. The chart below shows that the 2022 cycle is not an exception, as the amount of BTC held by addresses holding the big crypto for over 12 months reached new highs this year.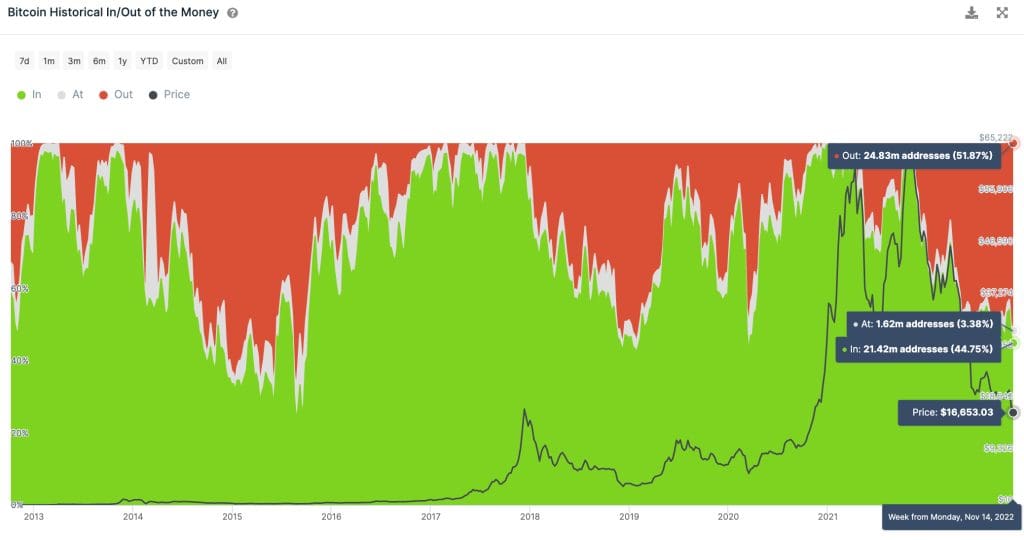 According to IntoTheBlock's BTC ownership indicators, Bitcoin "hodler's" balance have increased by 2.7 million Bitcoin year-to-date. Demand from long-term investors creates a floor for cryptos in bear markets over time, and they typically start to sell to new investors shortly after new all-time highs are reached.
A careful analysis of both on-chain indicators suggests that crypto could be late into the bear market. However, it is essential to note that cryptocurrencies are much less isolated from today's economy than in 2018 or 2015. For better or worse, institutions outside the crypto industry began buying in 2020-21, leading to higher correlations with traditional markets.
Crypto-Equity Correlations At Yearly Lows
Despite the increasing correlations since the last bear market, crypto's correlation with U.S. equities has decreased over the previous year. For example, Bitcoin's correlation with the S&P 500 reached -0.58 in November, its lowest since June 2021.
FTX's collapse has led crypto to de-correlate from stocks as internal selling pressure increased, with equities celebrating from lower than expected inflation data. It remains to be seen whether the correlations will go back to as high as they were a few months ago. Still, if the crypto industry wanted to reclaim its $3 trillion valuation late last year, it would require external capital pumped into the space.
From a macro perspective, however, the market remains bearish going into 2023. All indications from the Fed show that interest rates may have to go higher than initially anticipated and for more extended periods.
Could crypto be at or near the bottom, as on-chain metrics suggest from previous cycles? Has the crypto market become dependent on external capital flows, delaying it from reaching a base unless equities do so?
It's a wait-and-see situation.