A new feature is now available, enabling cold wallet vaults to delegate airdrops by claiming powers to a hot wallet while ensuring the safety of the original token. The component was necessary following numerous incidents and reports of stolen Apes.
The new feature, 'delegate.cash', is a fully immutable on-chain registry that allows users to delegate permissions from cold wallet vaults to hot wallets. According to a Twitter post, the innovation is the handiwork of several developers and industry experts who synchronized their individual and joint skills to end the desperate cry.
"This was a huge group effort, not an individual lift. Shoutout to @0xnook & @khivedoteth on the frontend side. Shout out to wwchung for pushing EIP-5369 through, to @purphat, Ryley-o, ww Chung on the smart contracts, to @punk6529, @andy8052 for overall direction."
It happens that wallet users with no technical knowledge and expertise have been the target of hackers, who bait them with airdrop promises. According to the report, threat actors use the "Claim" button to entice their targets with promises of earning free money but instead "rug and steal the user's prized NFTs."
NFT experts advise users to shift from hot software and hardware wallets for a safer alternative- cold hardware wallets and multi-sig. However, this option is slower for projects that require interaction frequently. For instance, Yuga Labs hold frequent ApeCoin events that operate on a "first-come-first-serve" basis, and accessing your NFTs fast is an advantage.
Unlike hot software or hardware wallets, cold hardware wallets have a lengthy procedure, including proving wallet ownership before accessing the project's exclusive Discord channel and claiming your ticket for the event.
What Is Delegate.cash?
The Delegate.cash feature is 100% on-chain, enumerable, immutable, independent, and verifiable. According to the developers, it is superior to any existing solution and is a substantial on-chain registry contract.
With Delegate.cash, users can be specific on hot wallet "delegates" that will act in place of cold wallet "vaults." According to the announcement, the feature is available on Ethereum, Polygon, and Goerli blockchains, with the possibility for access through other chains upon request.
"You can access the final contract for all verification and deployments at 0x00000000000076A84feF008CDAbe6409d2FE638B."
The address provides a global singleton deployment. This means that every integration will search the existing delegation registry instead of having to deploy their own. Users can reuse a single delegation as often as they want for hot wallet interactions, as cold wallet delegation only happens once on a trusted site.
User flow comparison for pre and post-delegate.cash
NFT holders seeking a hot wallet delegate for their cold wallet vault will use https://delegate.cash. In doing so, the NFT holder confers permission to the feature (Delegate) to claim airdrops and any other utility in place of the vault. However, despite this mandate, the Delegate leaves anything in that vault untouched.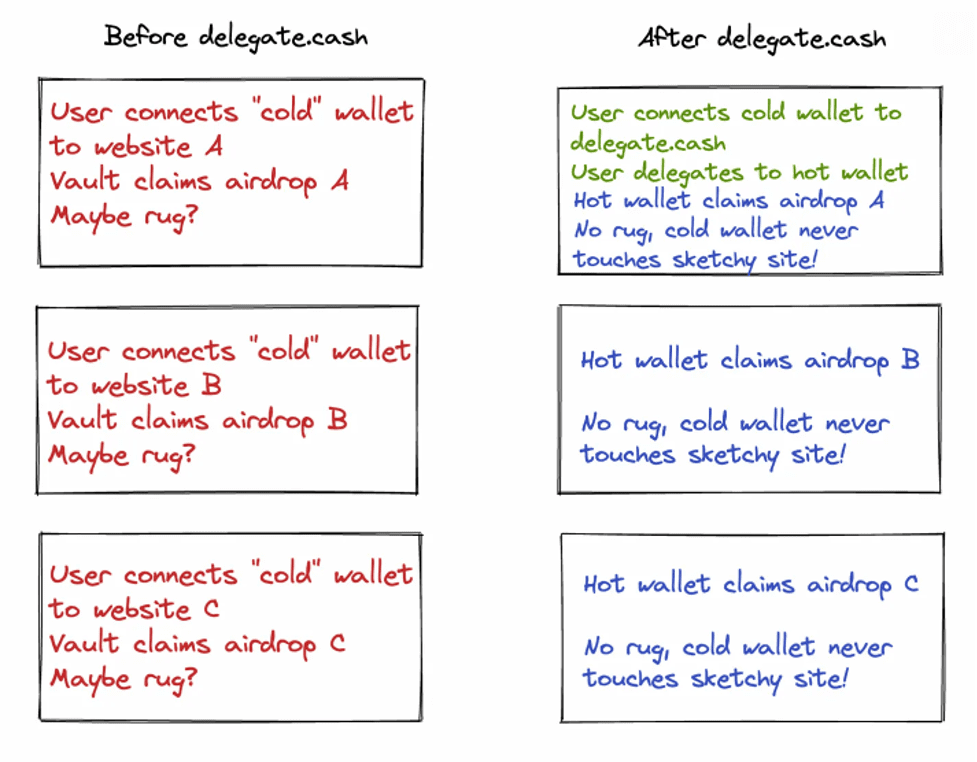 "We've built a granular permissions system, so you can either assign a delegate for either (1) everything; (2) a specific contract; (3) a specific token."
According to one of the developers, most users would want to delegate everything. In this regard, the expert highlights the option to trust a single hot wallet that will handle every bored ape claim while another wallet takes charge of the digidaigaku claims, each having its mandate.